Real Madrid Foundation Football Camp (residential) - Soccer Camps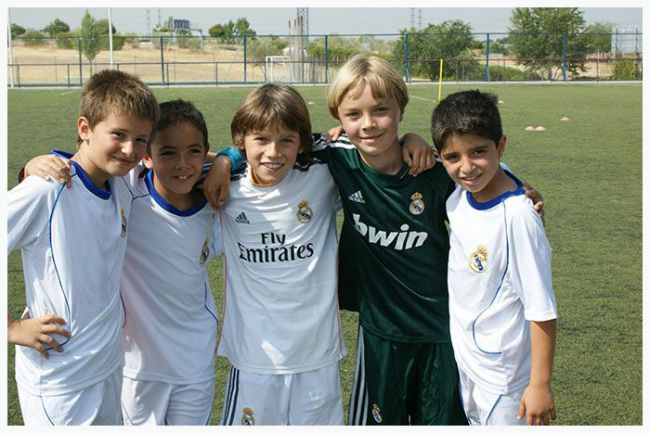 Book now
Ciudad Real Madrid en Valdebebas Madrid, Madrid , Spain
The Real Madrid Foundation Camp Experience (internal) is aimed at children aged 9-17 years.
From when they get up to when they go to bed, our participants experience first-hand what it is to grow as a group within a training program, led by sport coaches from the Real Madrid Foundation, educators and trainers of 'the camp experience'.
Top quality accommodation. A commute to Real Madrid's Sport City of Valdebebas to perform 90 minutes of training in the morning and 60 minutes in the afternoon, under the supervision of the coaches of the Real Madrid Foundation. They are all associated with and related to the values ​​of our club.
Ages: Born between 1998 and 2006.
Duration: 7 days from Sunday to Saturday.
Sports facilities: Real Madrid City in Valdebebas
Meeting point: Santiago Bernabeu
Example timetable:
8:00 Wake up
8:15 Breakfast
9:00 Activity
9:45 Transfer to Valdebebas
10:30 Training
12:00 Showers and food
12:15 Transfer to residence
12:45 Activity experience
14:00 Lunch
15:00 Fun experience
15:30 Dental hygiene
15:45 Pool
16:30 Transfer to Valdebebas
17:15 Training
18:15 Showers and refreshments
18:30 Transfer to residence
19:00 Team activity experience
20:00 Communication with families
21:00 Dinner
22:00 Activity experience
23:30 Bed time
*This can be modified for organisational reasons.
It includes:
• Breakfast + Lunch + Snack + Tea + Dinner
• Sports equipment + hat + diploma/photo + weekend excursion


FACILITIES
REAL MADRID SPORTS CITY – VALDEBEBAS
The Real Madrid Sports City has an area of 1,200,000 square metres. Ten times as much as the old Sports City, 40 times larger than the Santiago Bernabeu, 16 times larger than the Red Square in Moscow, 2.7 times larger than the State of the Vatican and 1.6 times larger than the Forbidden City of Beijing.
It has 12 football pitches, both natural grass and artificial, changing rooms, medical centre and cafeteria.
ACCOMMODATION:
The Erasmo Residence Hall is located at the Autonomous University of Madrid, and it has TV and DVD rooms, study rooms, a games room, laundry room, dining-bar and night surveillance.
All rooms have private bathroom, telephone, heating, computer connection with Internet access, television antenna and satellite connection.
HOW TO BOOK?
In the prices tab select your course.
Then continue to reserve and make the deposit.
The coordinator will contact you.
---
Ciudad Real Madrid en Valdebebas Madrid, Madrid , Spain